Baladi Blues Academy - Masterclass + Practice Session - FINALE
6pm-10pm

Haverstock School - Dance Studio / Gym, 24 Haverstock Hill, Chalk Farm, London, NW3 2BQ, United Kingdom
Nearest Undergound Station: Chalk Farm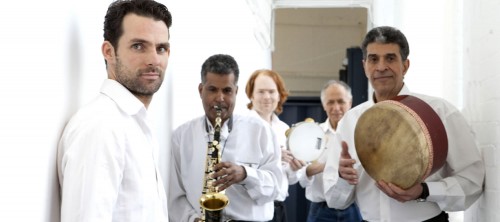 The final Baladi Blues Academy - Practice Session of the year.  Hosted by Guy Schalom and featuring the full Baladi Blues Ensemble.  
For this final session of the year we will include a masterclass where (those who want to) can dance solo with the band and receive valuable feedback.  
A unique opportunity to:
- prepare for auditions, competitions and other performances
- practice improvising with world-class Arabic musicians
- gain a better understanding of Arabic dance music (classical, Baladi and other folk styles)
- have fun, meet like-minded people and
- take your dancing/musicianship to the next level
 This is what you can expect:
-Plenty of time to practice beginnings, endings and tricky musical corners
-Detailed and clear explanations about the music
-YOUR choice of music (please ask in advance)
-Valuable constructive feedback from the musicians
- 4 hours of live music with the full Baladi Blues Ensemble
-A supportive and empowering environment among like-minded people who put dance and music FIRST.
-Limited numbers
This challenging work requires supportive people who share our ethos. That ethos is critical to all our education and development work - the music and dance come first with no exceptions. 
Cost: £65 for the full session 6pm-10pm
Booking: Please contact the Baladi Blues Academy HERE to register.