[ezcol_2third]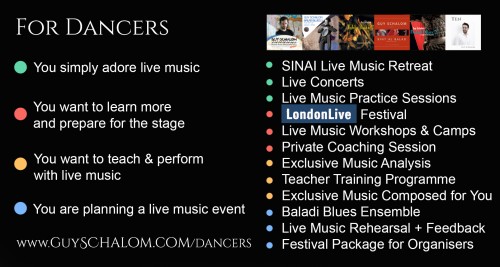 Where are you as a dancer?
"I simply adore live music"
– Dance and practice in a supportive environment at the Live Music Practice Sessions
– Attend a Live Concert and enjoy Europe's best acoustic Arabic music.
– Chill out or rock out to Guy Schalom's Arabic Music CDs: Shop  /  Download  /  Stream
– Eat, sleep and dance at the Real Music Academy Residentials
"I want to learn more and prepare for the stage"
– Join LondonLive Festival 2019 – the only festival of its kind, real instruments = real feeling
– Attend a Live Music Workshop and learn more about how to interact with and interpret live Arabic music
– Take a Private Coaching Session for focused individual training or book an Exclusive Music Analysis from Guy Schalom, saving time so you can focus on your choreography!
– Join the Dance Development Programme (Zurich) to improve your dancing and confidence with live music!
"I am ready to teach & perform with live music!"
– Enrol on Guy Schalom's Real Music Academy – Dance Development Programme and gain the valuable skills of teaching with live music.
– Design your Exclusive Drum Solo (or Magencé, Baladi) piece composed and recorded especially by Guy Schalom.
– Hire the Baladi Blues Ensemble for your show and perform with Europe's best known all-acoustic Egyptian dance band.
– Book a Live Music Rehearsal + Feedback Session to focus exclusively on your chosen repertoire and gain valuable feedback from Guy Schalom.

"I am planning a live music event!"
– Enquire about a Baladi Blues Festival Package for event organisers.  The Baladi Blues Festival Package for event organisers includes world-class live Arabic music, international artist introductions and liaison, logistics, professional dance workshops, music training and new music composed exclusively for your event.  
– Download PDF: Guy Schalom Workshop Topics 2020 (taken from Guy Schalom's WorkshopWorkbook)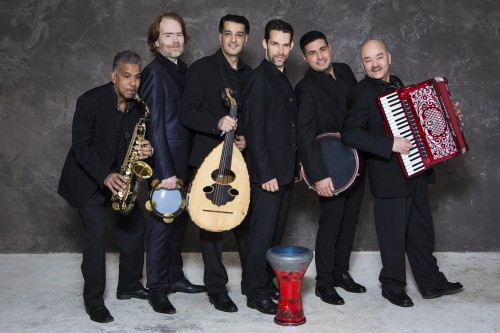 Contact